Free Consultation
"Any lawyer advertising to be "the best" may not be as advertised.

This website is designed to attract your business. I am not saying that you should hire me; rather, I am saying is that you should be duly diligent when selecting your criminal defence lawyer. Many Crown Prosecutors are extremely skilled at securing convictions. Therefore, you should do everything possible to secure the right criminal defence lawyer. I wish you all the best."

David Chow, Calgary Criminal Lawyer
If you have been charged with a criminal offence, arm yourself with knowledge about your case by getting some preliminary legal advice. This might be the best decision you ever make. David Chow is a former Crown Prosecutor. He is one of Alberta's proven Calgary criminal lawyers.
David's interests are your best interests.
Avoid a criminal record
Stay out of jail
Win the trial
Move on with your life
Obtain a favourable resolution
Reconnect with your family
Get rehabilitated
Reduce stress
Mitigate legal fee costs.
---
criminal lawyer in calgary
Looking for a criminal lawyer in Calgary who understands your predicament? Choose a real trial lawyer; call David Chow.
What you should understand is that the Administration of Justice benefits when you just plead guilty. Guilty pleas are expedient; they legitimize police action and usually result in the acquisition of a criminal record. A criminal record may dog you for the rest of your life. The police will treat you differently than those who do not have a criminal record. Indeed, an ordinary traffic stop interaction with a well-intended police officer may turn into an elongated probing of your personal affairs. Even if a guilty plea is something you must do, having your case evaluated by a seasoned Calgary criminal trial lawyer is important. Before pleading guilty, you need to know whether you have a defence.
the impact of a criminal record
With a criminal record, you may lose employment opportunities or the ability to travel to foreign countries. It is not unusual for United States Border Services to decline entry for persons charged with certain kinds of criminal offences.
To help you gain some immediate understanding about your case, David Chow offers a free initial telephone consultation. In this consultation, he will make every effort to supply you with a basic understanding of your case and some insight as to whether your charge(s) might be successfully defended. Of course, any preliminary opinion is without the benefit of disclosure (which can alter the complexion of any opinion) , but a preliminary assessment might help ease your mind in difficult times.
A good defence lawyer can help you shoulder some of the stress.
Free telephone consultation: 403.452.8018
---
Calgary | Airdrie | Lethbridge | Cochrane | Medicine Hat | Brooks | Okotoks | Alberta-wide | Whitehorse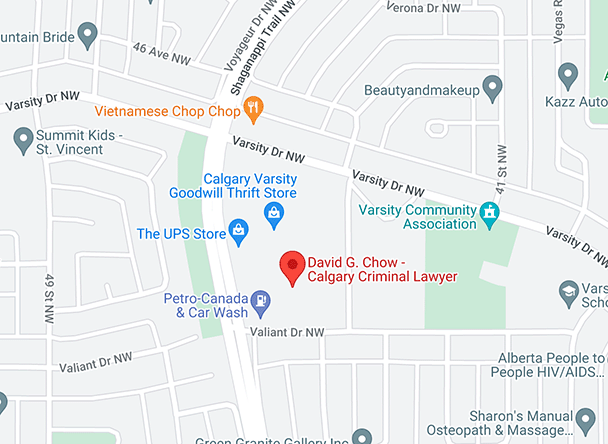 David G. Chow | Criminal Defence Lawyer
Provident Professional Building, Suite 212
4616 Valiant Drive N.W.
Calgary, AB, T3A 0X9
Phone: (403) 452-8018