Better Safe than Sorry not always better Safe
(403) 452-8018
Better Safe than Sorry not always better Safe
swatting
"Swatting" is defined as the action or practice of making a prank call to emergency services in an attempt to bring about the dispatch of a large number of armed police officers to a particular location. In a recent article written by Paige Parsons of the CBC, the term was defined as follows:
"Swatting" is the term used when a call is made to police making a false claim that a major incident, often involving hostages, is unfolding at a residence. It often results in a tactical team being deployed".
https://www.cbc.ca/news/canada/edmonton/leduc-woman-says-she-was-victim-of-swatting-incident-1.5268971
A "prankster" is a mischievous or malicious person who plays tricks or practical jokes at the expense of another. A "swatter" is more than a mere prankster; they are criminals, committing a serious public mischief contrary section 140(1) of the Criminal Code of Canada:
140 (1) Every one commits public mischief who, with intent to mislead, causes a peace officer to enter on or continue an investigation by
(a) making a false statement that accuses some other person of having committed an offence;
(b) doing anything intended to cause some other person to be suspected of having committed an offence that the other person has not committed, or to divert suspicion from himself;
(c) reporting that an offence has been committed when it has not been committed; or
(d) reporting or in any other way making it known or causing it to be made known that he or some other person has died when he or that other person has not died.
The CBC story, "Leduc family surrounded by armed police after apparent 'swatting" caused me to reflect upon the practice of swatting, its dangers and the police response to it. It occurred to me that swatters actually rely on a predicable "better safe than sorry" response by law enforcement to implement their objectives. That is to say, they have a very good idea how law enforcement will respond and react. From this it occurred to me that law enforcement may not be properly evaluating the tip or source of the emergency call. It is worth recognizing that in R. v. Debot, [1989] 2 SCR 1140, the Supreme Court of Canada outlined three questions that must be reflected upon to a standard of reasonableness prior to the police conducing an arrest or search based upon confidential or anonymous source information. The Leduc family who were targetted in this case were victimized at least twice: by the swatter and arguably the police.
The photograph below was copied from the CBC article, which was lifted from the family's social media account. It depicts a police officer entering the McRae home carrying what appears to be an automatic weapon. Imagine this happening in your home.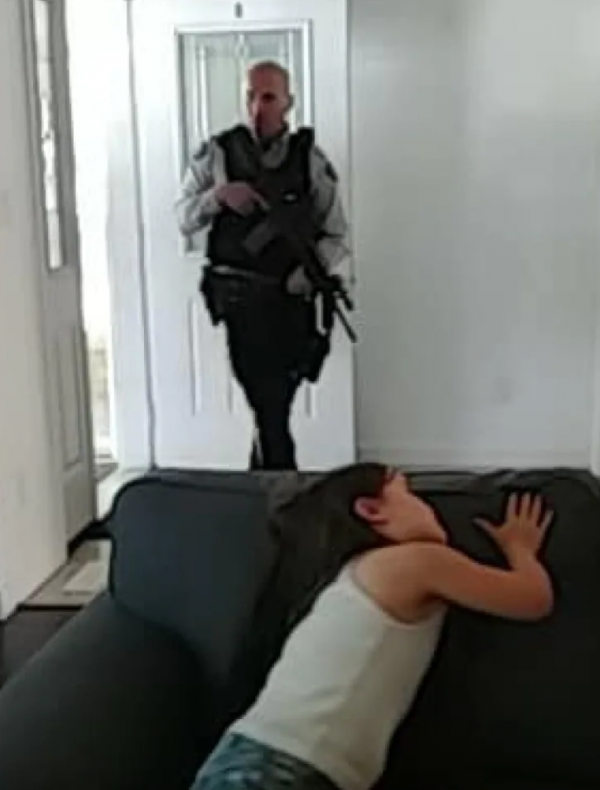 THE CBC STORY
The story of Tasha McCrae and her family was reported by CBC journalist, Paige Parsons. To fully appreciate what happened, I think much of the story is worth reciting verbatim:
A Leduc woman says she was the victim of "swatting" over the long weekend, when she and her children suddenly found their home surrounded by armed police officers.

Tasha McCrae and her three children moved into a duplex in a quiet neighbourhood in the community south of Edmonton at the beginning of the month. On Monday afternoon, McCrae's toddler was down for a nap, and her older children had two friends over. McCrae was having a shower, and said when she stepped out she heard what she first thought was a megaphone on an ice cream truck.

She looked out the window and saw a police car. That's when she heard the voice on a megaphone order the residents of her unit to come out with their hands in the air.

"I open the door really slowly, because I'm scared at this point, and my entire street is closed off, full of cop cars," she said. "There's cops behind my van as well. So they're all hiding behind their vehicles with their rifles pointed at the door."

In an interview Tuesday, Leduc RCMP Const. Bridget Morla said officers were called at about 2:39 p.m. to respond to a "high priority 911 call" in the city's Telford subdivision.

McCrae said it was like living out a scene from a movie as she stood on her doorstep, and tried to keep herself covered with only a towel while officers ordered her to put her hands up.

She said she was crying and tried to explain to the police with raised weapons that it was only her and five children in the house.

McCrae said she thought the police might be at the wrong unit, or looking for someone else.

"They're asking me if I have a man in the house with a gun ... I'm telling them I don't, I don't know what they're talking about," she said.

Eventually the officers let her go inside and get dressed, and allowed her to gather the children in a single room. She put them in a bedroom, then police made her move them all to the living room as they searched the home, guns raised.

"They searched my entire house with my kids screaming, found nothing, and then left," she said.

"[They] ended up coming in and apologizing and telling me I was swatted," she said. "As far as I'm aware, somebody called and said someone in my house had shot and killed their dad."

Morla said Tuesday that police are still investigating the source of the call, and no further information will be provided while the investigation is ongoing. She said no arrests have been made, and would not confirm the incident was swatting.

"The nature of the call was determined to be unfounded, and we determined there was no concern for safety for the public as a result of the investigation," she said.

McCrae said she can't think of anyone who might have been responsible.

"The cops said sometimes teenagers do it for fun, to watch from their window," she said.

McCrae said she's not angry with police for doing their job, but wonders if they could have handled the situation differently.

"When I came out in a towel, soaking wet from a shower, crying that I have kids in the house, I think they should have been able to notice that, no, there's no active shooter," she said.

She said her oldest child was shaken up by the incident, but her younger kids are OK.

McCrae said she immediately told her new landlord what happened, but remains stressed out because they don't know each other well and the incident happened just two days after she moved in.

"My anxiety was just on high alert, I don't want to get evicted," she said.

Hospitals in Edmonton and Calgary have been targeted in swatting incidents.

In late 2017, police surrounded a Calgary home after a man called and reported killing his father and stated he was holding other family members hostage.

The residents at the Calgary address were uninjured.
Again, the photograph below was copied from the CBC article. It captures what appears to be the emotional reaction of a child in the presence of armed police within the home.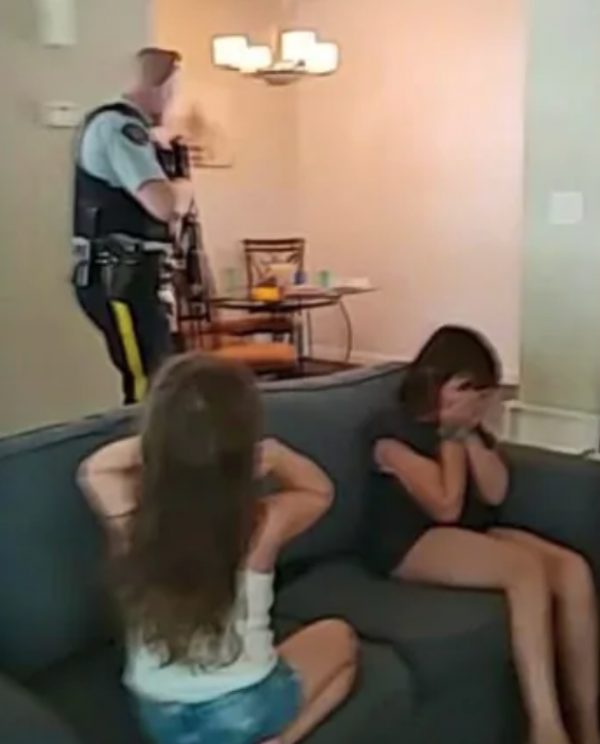 TWENTY-TWENTY HINDSIGHT IS NOT THE TEST
Tasha McRae asked a very good question: could police have handled the situation differently? Based on the available information, it's difficult to say.
Twenty-twenty hindsight is convenient and just as we should not automatically judge anybody (including police) for something known after-the-fact, it is still worth asking whether the conduct precipitating the crisis was reasonable and appropriate in all of the circumstances. In this writer's view, the answer is not simply for police to justify their decisions on the basis of "better safe than sorry"; for history shows that whenever there is an armed police response, "better safe" is not always the outcome. The fact is, people have been shot and killed due to mistakes and perception errors by police.
In Ms. McRaee's case, safety is a relative term. To that end, it is important to consider that her home was surrounded-by and invaded-by the police in full view of her community. She was met outside her door, wearing only a towel, looking down the barrel of many firearms, at least some of which were likely machine guns. Not surprisingly, she was scared, her children frightened and the ordeal continued when police herded her, her children and other children into a living room while they searched the residence. My point is, for the occupants of this home, nothing that happened was "safe". In my opinion, it is a serious error to think that one is ever safe at gunpoint, even if those guns are pointed by law enforcement.
People have been mistakenly shot by police for holding cellphones, umbrellas and for refusing to comply when commanded. Since police are heavily armed and since their collective good sense changes from one member to another, it is always a good idea to comply with police commands; but in Canada, it is worth remembering that citizens are not always required by law to do so. Police are shielded against prosecution for a great many actions taken while in the line of duty -- and though this is necessary to permit them to effectively do their job, those protections can themselves create dangerous situations for members of the public. After all, the closer anybody gets to having carte blanche authority to do whatever they want, the greater the likelihood there will be abuses.
It is for all of these reasons that I say that wherever possible, police have an important responsibility to investigate, reflect and evaluate the totality of the circumstances prior engaging members of the public at gunpoint. Equally, it is important to remember that police are often required to respond quickly and react to fluid and evolving situations. It is for this reason that we should not be so quick to damn them if they do or damn them if they don't. I acknowledge, they are easy targets to damn.
So to reiterate, I am not judging the police in this case based on twenty-twenty hindsight. Indeed, I don't have enough information to fully evaluate the decisions justifying the police response. What I do have, however, is enough information to ask a few wicked, questionable little questions.
EVALUATING THE TIP
I think it is fairly safe to assume that most cases of "swatting" involve an Informant Tip. There are many ways in which the police receive tips: Crime Stoppers, 911, non-emergency lines, criminals turned into informants, good Samaritans or officer's who have successfully engaged the community. As an aside, I confess that as a Calgary criminal lawyer who has read hundreds of search warrant affidavits, I am often quite sceptical about the credibility and reliability of a great many tips.
Tips can be anonymous, such as through the Crime Stoppers program. Even 911 calls can be made anonymously. In my opinion, anonymous tips should always be treated with extreme caution. In my opinion, the option by police to rely on tips sometimes appears to be more a matter of convenience than fairness.
Tips can be confidential. A Crime Stoppers tip, for example, can be both anonymous and confidential. Some tips are provided by "numbered Informants" -- sources who are protected by "informer privilege". In Canada, informer privilege is a nearly impregnable shield designed to protect the identity of the Informant. In most cases the shroud of informer privilege can only be lifted in rare circumstances where the accused can show that his or her innocence is truly "at stake". This is called the "innocence at stake" exception to informer privilege.
It is worth underscoring that in principle, our criminal justice system is not in the business of blindly accepting and reacting to tips from anonymous persons of unknown credibility and reliability. In R. v. Debot, [1989] 2 SCR 1140 the Supreme Court of Canada identified three questions relevant to evaluating confidential source information: First, was the information predicting the commission of the crime compelling? Second, where the "tip" originated from a source outside the police, was it credible? Finally, was the tip corroborated by police investigation? At the end of the day, the question is whether, in the totality of circumstances, relying on the tip was reasonable.
Addressing whether a tip is compelling requires, at least to some extent, identifying the source of tip. By way of example, police receive thousands of Crime Stoppers tips, all of which can theoretically be delivered anonymously. This means that the Crime Stoppers program is obviously vulnerable to public mischief and as such, law enforcement should be very cautious in the manner in which it responds to anonymous Crime Stoppers reports. Similarly, where police receive a 911 call but cannot identify the caller, they should proceed with caution; for anonymity means that the emergency line can be used as a weapon for public mischief.
Again, I am in no way suggesting that the police should not investigate all tips or that their response is to be quantified on a standard of perfection. In my opinion, the standard is always one of reasonableness. As I said, however, I do not accept that reasonableness is always quantified as "better safe than sorry".
WHAT THE CBC ARTICLE TELLS US
From reading the CBC article, it appears the tip originated from a high priority 911 call. At the time of the news story, no arrests had been made. There is no information in the story as to whether the police had identified or potentially identified the source of the call or had any suspects. Indeed, I would be surprised if they were able to easily discover this information; for it seems to me that the intention of swatters is to pull off their public mischief anonymously.
From the article, there is no information as to whether the tip was from "outside the police". There may be good reasons, however to assume it was from outside the police; for the police apparently apologized to Ms. McRae, saying she was "swatted". Whether Ms. McRae was swatted, however, is not certain; for Constable Bridget Morla was interviewed by the CBC and would not confirm whether the incident was in fact "swatting".
The CBC confirmed that the police are "investigating". According to the article:
Morla said Tuesday that police are still investigating the source of the call, and no further information will be provided while the investigation is ongoing. She said no arrests have been made, and would not confirm the incident was swatting.

"The nature of the call was determined to be unfounded, and we determined there was no concern for safety for the public as a result of the investigation," she said.
"Investigation" is a broad term that can include anything from a simple data inquiry taking moments, to a comprehensive police investigation taking hours, days, weeks or longer. Notice, Cst. Morla never said the police were taking the incident "seriously" (I assume they are) or that they were promising any updates in the future. Though I accept that the police are likely "investigating" for the purpose of arresting those responsible, I don't think it is necessarily the case that this will happen at all. I have noticed a trend in the news media. Just as swatters rely on the predictability of law enforcement, police rely on the predictability of the news media, whose stories have a short shelf life, with little to no long term follow-up. Simply tell the public that there is an "investigation" and they will believe that the issue being taken seriously. In time, the incident will be forgotten.
You might wonder why I am saying this. I do so because though there is no evidence to think that Ms. McRae's case was not a "swatting" perpetrated by a criminal prankster(s), it has occurred to me that swatting could also be a useful tactic to gain warrantless entry into a home. I confess, my nature is to be sceptical.
EVALUATING THE TIP
According to Ms. McRae (not confirmed by Cst. Morla), the police apologized to her and confirmed that she was "swatted". Assuming this is true, the question is whether law enforcement acted on the basis of a credible and compelling tip. If police received nothing more than an anonymous telephone call and reacted as they did, it strikes me that the public should be very worried about not only the use of police by pranksters but about the exercise of police power in the face of information having questionable credibility and reliability. After all, anybody who has an axe to grind against another could theoretically make an anonymous telephone call claiming a serious crime in progress for the purpose of playing a sinister practical joke. Of course, this is no laughing matter.
Now I am not suggesting that the police should ignore anonymous reports. Rather, I am saying that they must carefully evaluate the report and do all due diligence before engaging members of the community with an armed police response. I don't think I am being overly dramatic when I say that confidence in law enforcement comes from feeling safe in their presence. Though Ms. McRae appears not to blame the police, the simple fact of the matter is, they scared the hell out of her and her children. What is the long-term impact of this?
To reiterate, Ms. McRae was called out of the home with a megaphone. Doubtless, her community was alerted to the police presence. She exited, embarrassingly wearing only a towel and was engaged by police at gunpoint. When she told police that they had the wrong house -- that nobody was inside with a gun -- the police decided to search the home anyway. Possibly preferring the word of the anonymous tipster -- apparently acting on the basis of "better safe than sorry" -- the police allowed her to get dressed, confined her and the children into a single room and searched the entire residence.
Let me say that again. They searched the residence.
At the time the police conducted their investigative sweep of the home, the family was permitted to remain in the place where the danger was thought to exist. I found this puzzling.
Riddle me this:
At a minimum, why did the police need to engage the towel wearing Ms. McRae at gunpoint? Though I think there was much wisdom in using the megaphone, I am nevertheless left to wonder whether pointing multiple firearms at a woman wearing a towel increased or decreased her safety? To my mind, training many guns on Ms. McRae was for nobody's safety other than the police who were already taking cover behind their motor vehicles. And though Ms. McRae was not physically injured, I wonder about the psychological trauma of looking down the barrel of a gun or the injury done to public perception of Edmonton's police service.
Furthermore, if the police really believed an armed assailant was in the house, why let Ms. McRae return, even if it was to put on clothing? Why not rush her to the safety of a police vehicle? Maybe hand her a jacket. If they believed their was a danger in the home such that a sweep was necessary, didn't they just put her back in the place where they believed the danger was present?
If the police really believed an armed man was in the home, why not remove Ms. McRae and the children entirely while they completed their sweep? By leaving these people in the place where they believed danger existed, didn't they leave the people they were their to save in danger? Did they really believe there was any danger at all?
It is behaviour like this that leads me to question the police response in this case. Worse, I am left to wonder whether there was some other police operation at play. Perhaps police owe Ms. McRae and the public an answer: could they have done this differently?
If this was a "swatting", it strikes me that police departments across Canada need to carefully evaluate how they respond to anonymous tips. Furthermore, understanding that swatters use p0lice and crime reporting resources to create dangerous situations for the public, we as the public should not damn police if they are cautious acting on such information. After all, recklessly engaging the public with an armed response on the basis of anonymous information empowers the pranksters.
Of course, we will question every situation, because it is the questioning that keeps law enforcement honest.
conclusion
At a minimum, Ms. McRae's case does more than merely highlight the seriousness of "swatting" as a criminal offence, it underscores the need on the part of law enforcement to properly evaluate the credibility and reliability of anonymous tips before engaging the innocent public. If pressed, I imagine a spokesperson for the EPS will say "better safe than sorry". In my view, however, better safe than sorry is not always the safest or most reasonable approach to law enforcement or protection of the community.
There is no safety for anybody when they are compelled at gunpoint -- even when those guns are pointed by the police.
David G. Chow
---
David Chow is a criminal defence lawyer in Calgary. For a free telephone consultation on any issue in criminal law, call 403.452.8018.